88th Anniversary Sale
Monday, February 27, 2023
Noon (CST) At the farm
1291 Stroudsville Road, Adams, TN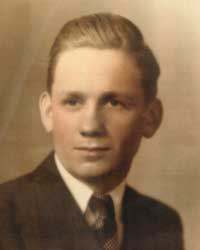 Robert Elliott 1935

Robert Elliott was the second oldest of six children to be raised on the family farm in the heart of the great depression. During high school he worked on the farm and any where he could find work to help the family make ends meet. He saved what money he could because he had a dream. That dream was to make a living farming on the small family farm in the rolling hills of north middle Tennessee. He wanted to raise registered Angus to increase the income from the farm. Upon finishing high school in 1935 he took his entire savings and purchased four registered Angus bred heifers. This was a bold step in the middle of the depression but he had his dream.


In 1942 he married Margaret Bush and they raised three children and furnished all three with a college education, something that they never had. They made sure the children understood the meaning and rewards of hard honest work. The Angus herd grew.


In the early 1950s Robert realized that most cattle were sold by the pound and cows that did not wean a big healthy calf every 12 months did not make you as much money as those that did and he did not have time to manage cows with problems. Robert started keeping records by hand on weaning weights, calving intervals and identifying cows and sires that had problems. He did not just keep records he used them to cull the cows and bulls that did not measure up. He sold the low growth, slow breeding, bad udders, foot problems and bad dispositions at the local sale barn. With the philosophy, "I don't care who your dam and sire are, where they or you placed in a show or what your last calf did, you have to add to my bottom line and you must do it on grass. If not you are gone." things changed in his herd. Pounds weaned per cow in the herd went up, cow numbers went down and profit rose. In 1958 Robert enrolled his herd in a new program at the University of Tennessee called Tennessee Beef Cattle Improvement Records. He was the first Angus breeder to do so and the first to take birth weights on all of his calves. In 1966 his oldest son, Joe, used an analysis of these records to become a national winner in the 4-H beef project.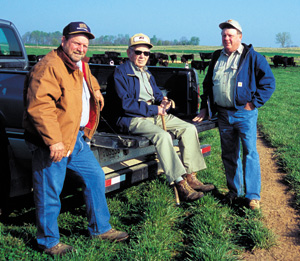 William, Robert and Joe Elliott

The two sons both attended the University of Tennessee and returned to the diversified family farm, Joe in 1971 and William in 1975. Both the crop acreage and the cow herd were expanded. Cattle records were moved from the University of Tennessee to AHIR. AI was introduced with and first AI sire used was "Rito 149."


Today Robert Elliott and Sons is still a diversified family farm with Angus cattle being a mainstay. Our herd is certified brucellosis free, accredited tuberculosis free and we have tested for Johne's for years and have always had a clean test. An annual production sale is held the fourth Monday of February. During the past few years our cattle have sold into over a dozen states with more than 70% of the sales going to repeat customers. Ultrasound data has been collected on our entire purebred herd since its inception and before that we collected carcass data on the progeny of our herd sires. We believe in measuring economically important traits because you cannot manage what you do not measure and we have been doing both since the 1950s.

We do have a few rules of management that we have put into place over the years and we feel they are time tested and are as follows:


Match our genetics to our resources and the resources of our bull customers.

No bad genes in equals no bad genes out. In other words, do not use an animal that has a big weakness.

Breed on EPDs cull on performance and structure.

Use proven genetics.

Always remember that numbers are just a tool -- they do not tell the entire story.

Treat all animals in a contemporary group alike. If you don't your ratios and records are meaningless.
Do not get a membership in the bull of the month club.
Only use genetics from an outfit that has to make their cattle pay their way. Anybody who passed sixth grade math can breed numbers but can they breed cattle?
Always remember that maximums do not keep you in business but efficiency will.
Realize that trend is not destiny.
Over the years "Form follows function…think about it" has become the byline at Robert Elliott and Sons Angus.